Bread Mix Review – Krusteaz Classic Sourdough Supreme Bread Mix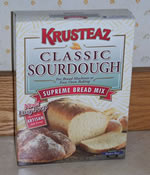 Last Updated on June 4, 2020
Before I get started, I want to let you know that some of the links on this page are affiliate links. That means that if you click through and take action, I'll receive compensation. You can
read more about that here
.
I adore sourdough! So when I saw Krusteaz Classic Sourdough bread mix I knew I had to try it.
The bread baked up just fine in my two-pound Zojirushi Bread Machine. The top of the loaf wasn't as uniform as I would have liked, but that might have been something that I did. What's most important to me is the way that the bread tastes. It had a nice, tangy, sourdough flavor. This is one mix that I wouldn't hesitate to try again.
The only caveat is that the texture of the bread was a little surprising. Sourdough bread is usually a bit chewy. This bread was more cake-like. However, with good-tasting bread like this I'm not that worried about the texture.