Mother's Day is coming up and that has me thinking about family.  I have a bread recipe of my Grandmother's sent to me by my Aunt Linda.  I thought this would be a good time to share it with you.
Keep in mind, this is NOT a bread machine recipe.  Grandma had to knead the dough, let it rise, punch it down, let it rise again and then bake it in the oven.  I think she would have really appreciated having a bread machine!
As a woman with a husband and five children to feed, Grandma didn't mess around. If she was going to make bread, she was really going to make bread. This recipe makes about 4 loaves.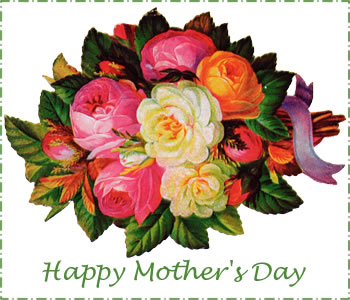 Grandma's Bread Recipe
2 packages or 2 tbsp. yeast
2 tbsp. sugar
2 tsp. salt
2 tbsp. lard (shortening)
4 1/2 cups water (2 boiling)
12 cups flour
Dissolve the yeast in 1/2 cup of lukewarm water and set aside until yeast foams up.
Put sugar, salt, and shortening in large bowl and add 2 cups boiling water.  Stir until sugar,salt and shortening dissolve.  Add 2 cups cold water and let stand until luke warm.
Add foamed-up yeast and stir well.  Add flour.  Knead dough.  Put in bowl and let rise to double size about 1 1/2 hours.  Punch down and let rise again about 45 mins.
Shape into loaves and put in bread pans. Let rise about 1 hour.
Bake at 350 degrees 45 mins to 1 hour.