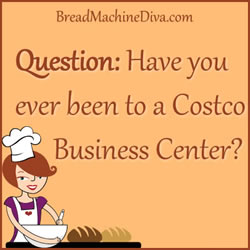 Every month we make a trip to Costco.  That's where we get our paper products, bread yeast and other grocery items.  We thought we were Costco experts.  I guess not as we were clueless when our neighbors asked us if we'd ever been to a Costco Business Center.  Costco Business Center?  We'd never heard of it.
Here's the scoop, there are only a few Costco Business Centers in the United States. Any Costco member can go to a business center.  You don't need a special membership to get in the door.
Once you're inside you'll see some of the same items as your regular Costco.  There's paper towels and toilet paper.  It has fresh fruit and milk.  However there are a few items that may be of special interest to people who make bread.

25 pounds of bread flour – Back in 2015 I noticed that Costco stopped carrying bread flour. That shelf space went to almond flour, gluten-free flour and other specialty flours.  That's not the case at the Costco Business Center!
Mediterranean Blend Oil  – I blogged about this back in 2013 as I was using this in my bread recipes.  Shortly after that, it disappeared from our normal Costco store.
Other Interesting Items:
Bags of decaf coffee beans  – The Man of the House (TMOTH) and I wondered at the total lack of decaf coffee beans at Costco. Now we know where they went!
Polish Kielbasa in a 4.5 pound bag – That's a lot of kielbasa!
New Zealand lamb carcasses and Australian goat carcasses – Carcasses!  They were hanging in the coolers.
Sixty pounds of honey – This came in a big, white bucket.  TMOTH was very interested in this because he sometimes makes mead.
Parchment Paper – I understand that this is a seasonal item in the regular Costco stores.  However, it looks like it's regularly stocked at the business center.


The Costco Business Center is a lot farther away that our regular Costco. Despite that, it has some intriguing items that make it worth the trip. We plan on making the drive every three months or so.