Bread Machine Diva Confessional – The Yeast Incident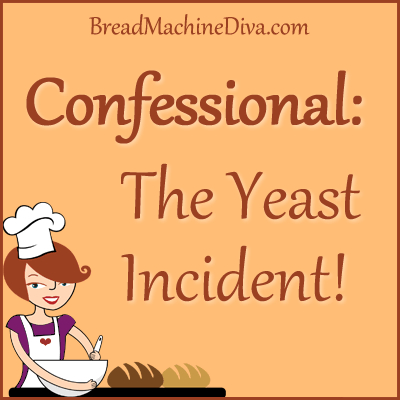 The short version of this story is that I thought I'd been using bread machine yeast for my baking. I was shocked to discover that I'd really been using active dry yeast. Here's how the mix-up occurred and why it's really a good thing.
It All Started with a Trip to Costco
Since I bake all our bread we go through a lot of yeast and flour. We buy those items in bulk, but we forgot to get yeast on our last Costco run. I made a special trip to pick some up, but when I got to Costco something was wrong. They did not have bread machine yeast. Instead they had Red Star active dry yeast.
Some varieties of active dry yeast can be used instead of bread machine yeast, but I'd always used bread machine yeast. So I was really concerned.
When I got home I told The Man of the House (TMOTH) about all about it. "Do you think they've stopped carrying bread machine yeast?"
"What do you mean? I always buy the Red Star yeast," he responded.
"But it's active dry yeast. It's not bread machine yeast," I protested.
"It's what we've been using for years."
What?!?
How This Happened
The Man of the House and I have a routine at Costco. We go about once a month and each of us gets a cart. I get the paper products and check out. He gets the rest of the groceries and checks out. We rendezvous in the SUV and then head for home. Once we get home TMOTH pours the yeast into two large glass jars and puts it in the refrigerator.
I get yeast from the glass jars, not from the yeast package. In other words, I hadn't looked at the yeast package. I just assumed that we were using bread machine yeast.
And you know what happens when we assume . . . .
Active Dry Yeast
At this point I'd like to pause to thank my family, friends and TMOTH who have patiently listened to me talk about yeast over the last several weeks. We now refer to this dark time as the "yeast incident" and it will never be forgotten.
Imagine! I thought I'd been making bread with bread machine yeast. Instead it turns out that except for the instances when I used quick rising yeast, I've been using active dry yeast and treating it like bread machine yeast. AND I've been getting great results.
Once I wrapped my head around these facts, I updated my article on what yeast to use in the bread machine. I'm grateful for new knowledge because it means that yeast for the bread machine is much easier to obtain that I'd thought. It can be hard to find bread machine yeast at the grocery store, but most places carry active dry yeast. I suppose that all brands might not work as well as Red Star, but they would be worth a try in a pinch.