Dairy-Free Eggnog Bread Recipe for Bread Machine
Thanks to Kim for this recipe. She wondered if Almond Nog would work with my Eggnog Bread Recipe. She tested her idea and posted the results. Thanks, Kim!!
The bread tastes great and contains no dairy products.  The bread has a light eggnog flavor and is really lovely toasted.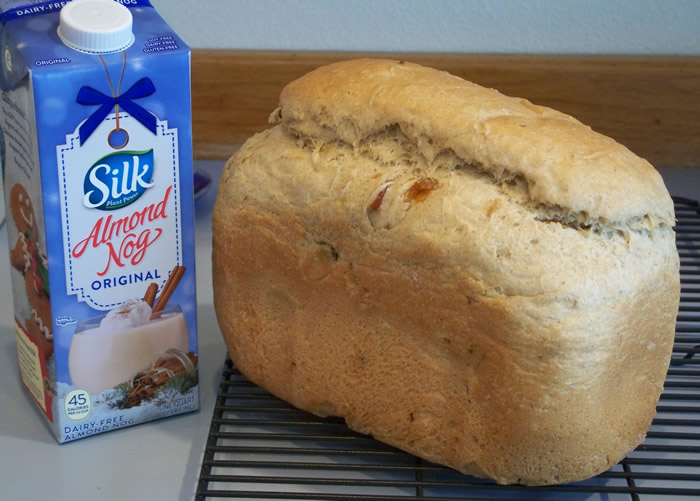 Dairy-Free Eggnog Bread – Two Pound Loaf

1 ½ cup Almond Nog
4 cups bread flour
½ cup raisins, craisins or dried cranberries (I used golden raisins.)
1 ¼ teaspoon salt
1 Tablespoons olive oil
1 teaspoon cinnamon
1 ¾ teaspoons yeast
Follow the instructions that came with your bread machine in terms of which ingredients to put in the bread machine first.
As always, check on the dough after five or ten minutes of kneading. The dough should be a smooth, round ball. If it's too dry add liquid a teaspoon at a time until the dough balls up. If it looks too wet, add flour a teaspoon at a time until it looks as desired.