Easy, Tasty Peach Cobbler Recipe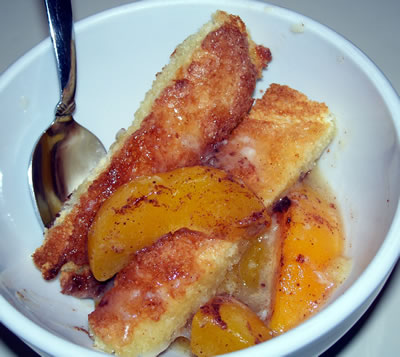 I test all of the recipes on this site before I share them with you. My search for a good potato bread recipe still haunts me. I must have tried six different recipes before I found one that I liked. The point is that I test these recipes and not everything that I try makes it into the website.
I had high hopes for this one, but when it came out of the oven I thought it was a failed experiment. It was drippy and it looked a little weird. Then I tasted it. Yum! So here you are, a cobbler that's a little messy and looks a bit strange. However, it's also very tasty and super easy to make. It's also a great way to use up those last couple of slices of bread.
I should also say that this recipe is based on Loaf Bread Apple Pie from A Cake Bakes in Brooklyn.
Easy, Tasty Peach Cobbler
2 15-ounce cans of sliced peaches, drained
2 slices of lightly toasted bread, crusts removed
1/2 Tablespoon cinnamon
1/4 teaspoon nutmeg
1 egg, beaten
1/2 Cup sugar
4 Tablespoon butter, melted
Preheat the oven to 425 degrees.
Grease an 8 by 8 baking pan. Add the drained peaches. Sprinkle the cinnamon and nutmeg over the peaches.
Cut each slice of bread into 4 pieces and arrange over the peaches. Combine the egg, sugar and butter. Pour over the bread slices.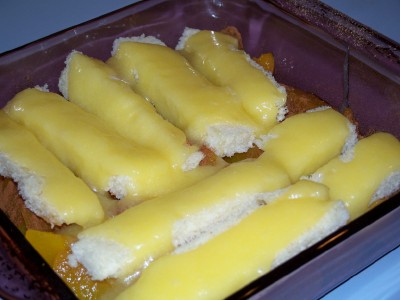 Bake at 425 degrees for 20 minutes. After cooking let it rest for 5 minutes.
You'll have to serve this in a bowl because it's a little drippy. And you know, a bowl is a good place for whipped cream or ice cream. This would taste wonderful with either one of those. But it tastes very good without them too.