A few months ago I wanted to make a loaf of sour milk bread.  There was one problem.  I forgot to put the paddles in the bread machine. We've all done that I'm sure, but this time I didn't realize what I'd done, or hadn't done in this case, until the timer went off indicating that the bread was finished.
As I approached the kitchen I noticed a funny smell. It was oddly like popcorn.  When I looked in the bread pan I saw a strange sort of custard in the corners of the pan where the milk had cooked.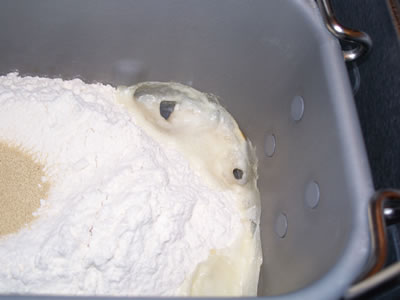 Yuck!  What a mess.  I had to throw it all away and start over.  My new saying is, "Your bread machine is running.  Do you know where your paddles are?"
Five Interesting Links
In addition to sharing my sad tale, I wanted to share these five interesting links: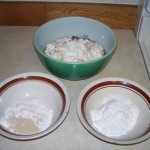 #1 – Eeek! I Forgot to Put the Paddles in the Bread Machine! – As I said earlier, I've forgotten the paddles in the past, but I usually figure it out before I kill the yeast by cooking it. Here's my system for dealing with the situation.
#2 – April Fools In The Kitchen: Baking Blunders At King Arthur Flour – Every year on April Fool's Day King Arthur Flours posts an article showing their kitchen misadventures. After the whole milk custard thing, I find this post very comforting.
#3 – Free eBooks at The Prepared Pantry – Check out the impressive collection of free eBooks offered by The Prepared Pantry.   Titles include Creative Cupcake Ideas, Easy Cheesecakes, The Carhop's Guide to Burgers, Fries and Onion Rings and more.
#4 – Michael Angelo's – One of the reasons that I use my bread machine so much is that I'm trying to avoid a lot of prepared, frozen foods.  But sometimes life just gets too busy and I find myself in the freezer isle of the grocery store.  At those times, I always look for something from Michael Angelo's.  If you're in the grocery store and you see any of their products take a look at the ingredients list. They have regular ingredients like tomatoes, pasta and cheese.  There aren't a lot of strange chemicals.  And of course the food tastes great.
Just to be clear, this isn't a paid review or anything like that.  It's more of a fan letter because I can buy something that tastes good and is made with the same standards that I have in my own kitchen.
#5 –  Freeze Extra Eggs – My Aunt Linda told me about this.  You can freeze fresh eggs to use them later.  Who knew?  I haven't tried this yet, but I've been seeing a lot of sales on eggs.  Hmmm . . . .