Homemade Breakfast Bar Recipe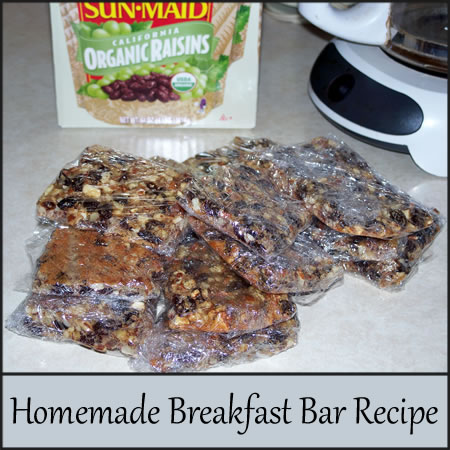 Let me start out by saying that this recipe has nothing to do with the bread machine.  Despite that, I just had to share it with you.
For a long time we'd been looking for a replacement for breakfast bars.  We love the convenience of those foil-wrapped wonders, but not the price or the ingredient list.  Then I spotted a recipe for date nut bars on the A Cake Bakes in Brooklyn blog.  With a little bit of tweaking I came up with a great homemade breakfast bar recipe.  They taste great and are easy to make.  We take them on road trips.  I use them for a quick on-the-go breakfast.  You can pack them in lunches.  They're sweet enough that they can satisfy a sweet tooth, but don't contain a huge amount of sugar.
Homemade Breakfast Bar Recipe
2 eggs
1/2 Cup sugar
1/3 Cup flour
1 teaspoon baking powder
1 1/2 Cup raisins
1 1/2 Cup chopped nuts (I've used walnuts, pecans and almonds.  Sometimes I go wild and put in some of each.)
1 teaspoon vanilla
1/2 teaspoon cinnamon
Start by preheating the oven to 350 degrees.  Then use parchment paper to line a cookie sheet.  You can grease the pan instead, but these are majorly sticky and I recommend going with parchment paper.
Combine the sugar, flour and baking powder in a large bowl.  Then add the eggs, vanilla and cinnamon.  Add the raisins and nuts last.
Put the mixture on the prepared pan and then spread it out.  I think it ends up being about half an inch thick or so.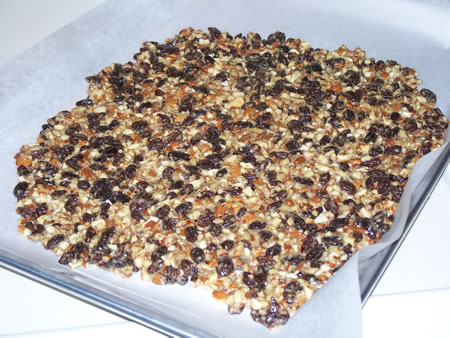 Cook for 20 minutes at 350 degrees.  When cool cut into bars.  We wrap ours in plastic wrap and stick them in the freezer.  Then they're ready to add to a lunchbox or backpack.  Heck, I even eat them frozen.