Bread Mix Review – Krusteaz Classic Sourdough Supreme Bread Mix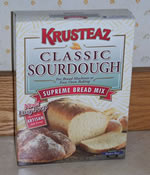 I adore sourdough!  So I when I saw Krusteaz Classic Sourdough bread mix I knew I had to try it.
The bread baked up just fine in my two-pound Zojirushi Bread Machine.  The top of the loaf wasn't as uniform as I would have liked, but that might have been something that I did.  What's most important to me is the way that the bread tastes.  It had a nice, tangy, sourdough flavor. This is one mix that I wouldn't hesitate to try again.
The only caveat is that the texture of the bread was a little surprising.  Sourdough breads are usually a bit chewy.  This bread was more cake-like.  But with good tasting bread like this I'm not that worried about the texture.