Cherry Bread in the Bread Machine
Last Updated on September 25, 2019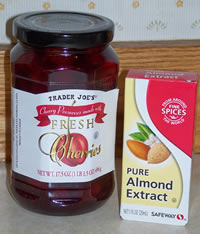 This would make a lovely treat for your family on Valentine's Day. The bread has a cake-like texture and a great taste. Don't even get me started about the aroma as the bread bakes or toasts. Lovely!!
Hopefully, you'll have an easier time finding the cherry preserves than I did. I looked for it at numerous stores and finally found some at Trader Joe's.
This makes a two-pound loaf.
Cherry Bread – Bread Machine Recipe
1/2 cup water
1/2 cup cherry preserves
1/4 cup butter
1 egg
1 teaspoon salt
1/2 teaspoon almond extract
3 1/2 cups bread flour
2 1/4 teaspoons active dry yeast
Follow the instructions that came with your bread machine in terms of which ingredients to put in the bread machine first. Use the white bread setting with the crust set to light.
Because different preserves have different consistencies, it's a good idea to check on this bread after five or ten minutes of kneading. Open the top of the bread machine and see how the dough is doing. It should be a smooth, round ball. If it's too dry add liquid a teaspoon at a time until it looks right. If it looks too wet, add flour a tablespoon at a time until it looks OK.