A Different Sort of Bread Machine
Grocery shoppers in Germany are seeing a different sort of bread machine.  The Aldi Süd grocery store chain has introduced a sort of vending machine for fresh bread.  As reported by the Wall Street Journal,  warm "fresh out of the oven" rolls pop out of the machine within seconds of depositing money.  The grocery store chain claims that the machines are "technological innovation" in automated baking.
Local bakers disagree.  "It just makes me sad that a customer is being given the idea that this could actually be freshly baked bread," one baker stated.
The reason this is causing such an uproar, is the fact that bread is a very big deal for Germans.  The German Food Guide states:
In Germany, bread is more than just a food – it is a part of the German culture. Germany produces more varieties of breads than any other country. Over 300 varieties of dark and white breads and over 1,200 varieties of rolls and mini-breads (Brötchen & Kleingebäck) are produced in Germany.
In case you were wondering, some of my ancestors were from Germany.  🙂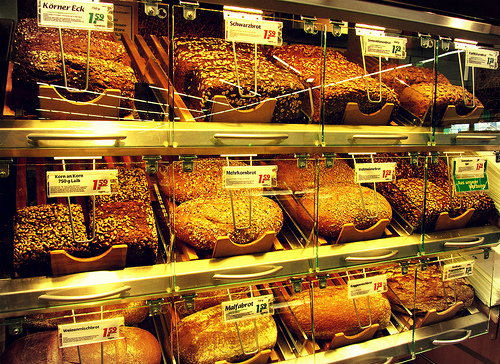 German Bread – Photo by cloudsoup