Bread Sticks from the Bread Machine
These bread sticks are soft and buttery.  I like to serve them along side a hearty soup.
Bread Sticks
1 Cup water
1 Egg, lightly beaten
3 ¼ Cups bread flour
4 Tablespoons sugar
1 teaspoon salt
3 Tablespoons dry milk
¼ Cup butter
1 ½ teaspoons yeast
Follow the instructions that came with your bread machine in terms of which ingredients to put in the bread machine first.  Set the machine on the dough setting. Make sure you check on the dough after five or ten  minutes of kneading.  It should be a smooth, round ball.  If it's too dry add liquid a tablespoon at a time until it looks OK.  If it looks too wet,  add flour a tablespoon at a time until it looks right.
Here's how the dough looks when it's done.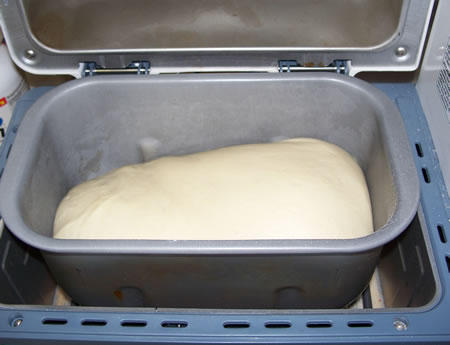 When the dough is done put it on a lightly floured surface.  Divide the dough into 18 equal pieces.  Then roll each piece until it's a rope that will fit in your greased cookie sheet like so.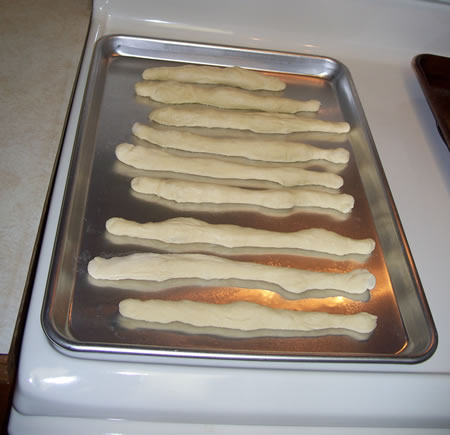 Note that you'll need two pans for this.
Cover the rolls with a clean, light-weight kitchen towel and let the rolls rise for half an hour. Then remove the towel and put the bread sticks  in a 400 degree oven for 10 to 13  minutes or until done.  (It took only 11 minutes in my oven.)
Move the cooked bread sticks to a rack to cool.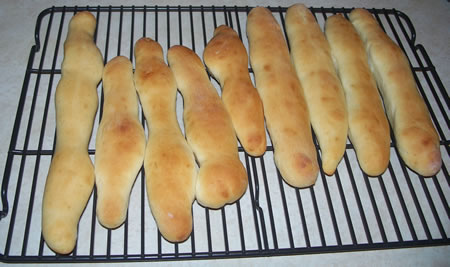 The bread sticks tasted great, but seemed a little large.  The next time I make them I'm going to try to make 20 bread sticks instead of 18.  That should make them the right size.