All the bagel recipes I've ever read call for putting the bagels in boiling water before they go into the oven.  This recipe doesn't.   How do the bagels taste?  They may have been a little heavier than other bagels I've tried, but they tasted fine.   We split them, added cream cheese and had a lovely breakfast.
Cinnamon Raisin Bagels
1 1/2 Cups water
1 teaspoon salt
1 Tablespoon dark brown sugar, packed
4 Cups bread flour
1 teaspoon cinnamon
1/2 Cup raisins
2 1/4 teaspoons yeast
Follow the instructions that came with your bread machine in terms of which ingredients to put in the machine first. Set the machine on the dough setting.
When the dough is done put it on a lightly floured surface.  Divide the dough in half.  Then divide those pieces in half.  Keep going until you've got 12 equal pieces of dough.  Then roll each piece until it's a 10 inch long rope.
Form each rope into a circle and place on two greased cookie sheets.  It's OK to give the ends a little pinch to make sure things stay together.  Cover them with towels and let rise for 30 minutes.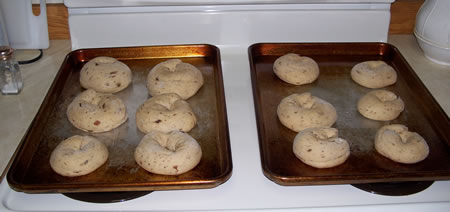 Bake in a 375 degree oven for 15 minutes.  Then turn the bagels over and bake for another 10 minutes.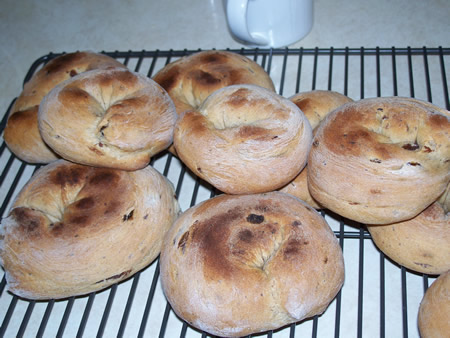 The bagels were a little more brown than I'd like.  The next time I make this recipe I'll decrease the cooking time by a few minutes.  It was a winner though, so I will be making this one again.