We really like our new location and the rental house.   One of the few problems is the stove.  It's about 25 years old.  The burners have a mystery substance melted on them.  The timer knob is missing.  The clock no longer works.  Most annoying of all, the oven seems to run hot.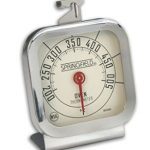 It was time for the oven thermometer!  These little gadgets are handy and inexpensive. If your oven doesn't heat properly I suggest you get one.  It's well worth the six dollar price.
I put the oven thermometer inside the oven and then turned it to 350 degrees.  The first thing I noticed was that the oven light went out at about 200 degrees.  Was the oven resting?  Did the heat need to equalize?  I'm not sure.  After half an hour, the oven stabilized.  It stabilized at 400 degrees!  No wonder our food had been burnt.
I played around with the oven for an hour or so.  I changed the temperature and noted how long it took the oven to make the switch.  I also observed how much the temperate inside the oven varried from what I'd set.
In the end I discovered that our "new" oven takes about half an hour to warm up.  It also heats to about 50 degrees higher than the temperature I set.  Knowing this gave me two benefits.
Benefit Number One – Armed with this knowledge, the Man of the House and I went to our landlords and asked for a new stove.   They agreed!
Benefit Number Two – Now that I understand the oven's quirks, I can work with it.  I warm up the oven well in advance of baking.  I also set the temperature fifty degrees cooler than what I really need.  Last weekend I baked two batches of hamburger buns and not one of them was burned.
While I'm very excited about getting the new stove, I'll be able to deal with this one for now.