Raisin Bread Stuffing – Leftover Bread Recipes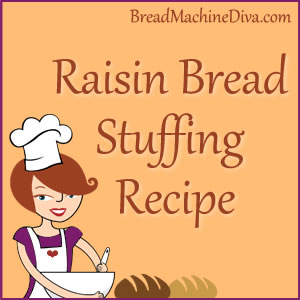 To be honest, you can use any sort of bread in this stuffing recipe.  But if you have enough leftover raisin bread this stuffing is fantastic.  The apples and the raisins really go well together and give the stuffing a slightly sweet flavor.
Raisin Bread Stuffing Recipe
1 Cup hot water
2 Chicken bouillon cubes
1/4 Cup diced onion
1/2 tsp celery seed
1 tsp poultry seasoning
dash ground pepper
1 Apple -cored, chopped, unpeeled
2 Tablespoons butter – melted
3 Cups torn/crumbled raisin bread (or enough to soak up the liquid)
Dissolve the bouillon cubes in the hot water.  Add the rest of the spices.  Combine the water mixture with the rest of the ingredients in a big bowl.  Stir until all the liquid has been dissolved into the bread.
Spray a bread pan or square cooking pan with nonstick cooking spray.   Put the stuffing in the pan and cover with tin foil.  Bake at 350 degrees for forty minutes.
I love to serve it with pork roast.