I tried a new dinner roll recipe for Easter.  It was a huge hit!  The rolls are soft and buttery.  Yum!
Buttery, Soft Dinner Rolls
1 Cup water
1 Large egg
3 1/4 Cups bread flour
4 Tablespoons sugar
3 Tablespoons dry milk
1 teaspoon salt
1/4 Cup butter
1 1/2 teaspoons yeast
Follow the instructions that came with your bread machine in terms of what ingredients to add first.  Use the dough setting of your bread machine.
When the dough is done put it on a lightly floured surface and divide in half. The goal is to get about 18 dinner rolls of appropriate size and shape. Put the rolls on a greased cookie sheet.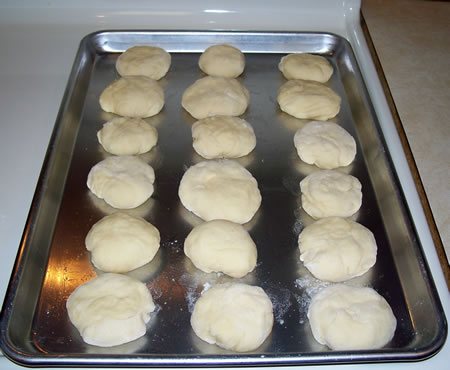 Cover the rolls with a clean, light-weight kitchen towel and let the rolls rise for half an hour. Then remove the towel and put the rolls in a 375 degree oven for 10 to 15 minutes.  (I baked mine for 12 minutes.)
Move the cooked rolls to a rack to cool.