Light Rye Bread Taste-Off #2 – The Sandwich Test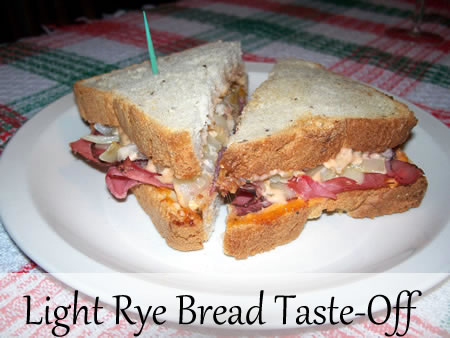 Years ago I didn't have much experience with rye bread.  So I found two different recipes for light rye bread.  We decided to put the recipes to a test.  We tested the breads with toast.  Our second test was the pastrami sandwich test.
We made two sandwiches, one with Light Rye Bread and one with Extra Light Rye Bread.  The rest of the ingredients were pastrami, sautéed onions, pepper jack cheese and sandwich sauce.  We cut the sandwiches in half and then we took a half from each one.  The green toothpick marks the sandwich made with the extra light rye.
Which did we like better?  While both sandwiches were good, we each favored the sandwiches made with the Light Rye Bread.