Light Rye Bread Taste-Off #1 – The Toast Test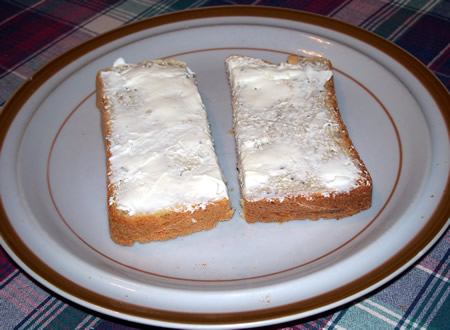 When I first made rye bread, I tried two different recipes.  (Both of them were for light rye bread.) The first Light Rye Bread Recipe uses a lot more rye flour and caraway seeds.  The second recipe uses less of those ingredients.  Consequently the bread is more cake-like and is lighter in color.  I'm calling that one, Extra Light Rye Bread.
However we (the Man of the House and I) didn't have much experience with rye bread.  Which did we like better?  We decided to put it to a test.  The first thing we looked at was which one we liked for breakfast.  We toasted one slice of each type of bread, applied cream cheese and sliced the pieces in half.  Then we each had half a slice of toast from each type.  The result?
I was very surprised to discover that despite the difference in ingredients, the breads tasted remarkably alike.  The big difference was in the texture of the bread.  I liked the softer texture of the Extra Light Rye Bread, while the Man of the House enjoyed the firmer Light Rye Bread.
Next, we took a look at which type of bread we liked in pastrami sandwiches.