Apple Cider Cinnamon Bread for Bread Machine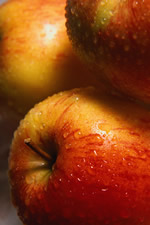 Thanks to Granny Barbie J for this recipe.  I made a few tweaks, but this is basically her recipe.
This bread is good and smells wonderful when toasted.  It's also a good way to use up extra apple cider.
While there's nothing wrong with this bread, I must confess that when I was eating it I longed for applesauce bread.   The breads have a similar taste, but applesauce bread is made with wheat flour and makes for a more substantial breakfast.
The recipe makes a 1.5 pound loaf.
Apple Cider Cinnamon Bread
1 1/4 Cups apple cider
2 Tablespoons olive oil
3 Cups white bread flour
2 Tablespoons brown sugar
1 teaspoon salt
1 teaspoon cinnamon
2 1/4 teaspoons yeast
Follow the instructions that came with your bread machine in terms of which ingredients to put in the bread machine first.
It's always a good idea to check on the bread after five or ten  minutes of kneading.  Just pop the top of the bread machine and see how the dough is doing.  It should be a smooth, round ball.  If it's too dry add liquid a tablespoon at a time until it looks right.  If it looks too wet,  add flour a tablespoon at a time until it looks right.