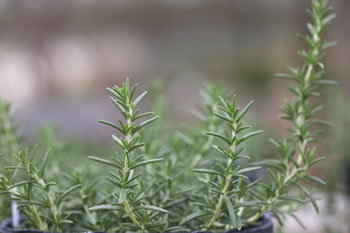 Do you have a rosemary plant in the backyard?  If so, this is perfect for you.
Rosemary Bread Recipe
2/3 C. Milk
2 Eggs
3 C. Bread Flour
2 – 1/2 Tablespoon Sugar
1 – 1/2 teaspoon Salt
1 – 1/2 Tablespoon Butter or Olive Oil
1 teaspoon Chopped, Fresh Rosemary
1/2 teaspoon Dried Thyme
1/2 teaspoon Dried Cilantro
2 teaspoons Bread Machine Yeast
This makes a two pound loaf.
In a large measuring cup or bowl mix the milk and the egg. Put in the dried spices to rehydrate them. Then follow the instructions that came with your bread machine in terms of which ingredients to put in the machine first.  On my machine I used the white bread and medium crust settings.
This bread is heavenly toasted and topped with cream cheese!